About Us
Designing and building custom enclosures is our specialty.  Exceeding your expectations is our standard.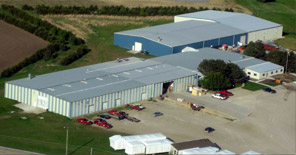 Throughout each step of the process – from conceptual drawings, through production, to delivery – we continually monitor our systems to assure that you receive the very highest quality.   Our products are designed, processed and produced in our 92,000 square foot Heritage factory and office facility in Nebraska.  Our enclosures are structurally crafted to conform to critical dimensional tolerances that guarantee a perfect fit.  Quality and reliability through the entire enclosure production process is what our customers have come to appreciate as The Heritage Experience.
Management
Heritage Manufacturing benefits from the long history of Heritage Companies in the manufacturing and construction industries. Heritage Companies' roots go back to 1962 in the construction industry and Heritage Companies began in-plant manufacturing in 1977.
The management staff of Heritage Manufacturing has decades of diverse manufacturing and construction experience. Our President, Mr. Rod Tompkins, has been in the manufacturing and construction industry since 1962.  Mr. Tompkins has a very broad background in industrial, commercial and residential construction, both in the field and in a controlled manufacturing facility. Our General Manager has been with Heritage since 1978. Our Production Manager has been with Heritage since 1983. Our Chief Architect has been designing custom enclosures since 1981. Senior Product Manager, Kevin Potter, has been working in Stainless Steel fabrication since 1985. Product Manager, Glen Olmer has been in custom manufacturing since 1987.
Heritage has a very strong tradition of both customer and employee loyalty. A key element in managing the production of high quality products is the Heritage Quality Assurance Program. Step-by-step procedures have been established and the Quality Assurance Manager works closely with the production supervisors to see that the Heritage standards are met on every product produced. This "marriage" between management and production assures our customers of the finest quality enclosures possible. Heritage employees take great pride in their company and the products they produce.